Want to feel like a B.A.B.E. all day every day in your chosen career?
♥ Do you want help to show you how to get to the next level in your acting career because you haven't a clue what you need to do next?
♥ Do you struggle to work out your casting type?
♥ Do you need help understanding how to market yourself or how to write that killer agent email?
♥ Does writing to casting directors baffle you?
♥ Does it feel like you just get weighed down by the sheer number of things you have to get done to "make it happen" as an actor?
Have you ever considered an
acting mentor
?
Angela sharing about mentoring: Acting mentors here in the UK are few and far between. I work in the industry full time and I love nothing more than helping others to work towards their personal acting goals and to achieve their acting dreams. And I'm based in London so I'm easily accessible (or by zoom or skype if you're not local OR there's a pandemic and we can't hang in person).
Over the years I have worked with over a dozen Casting Directors in the UK and Australia so I am very familiar with being a reader, with working in their offices, helping with live castings, calling agents to book actors to come in, and with seeing and understanding how and why Casting Directors make the decisions they make with castings. I've also interviewed numerous Casting Directors, Agents, Producers and Directors as part of the UK Actors Tweetup which I founded over 10 years ago. Oh and I've mentored hundreds of actors over the years!
I've helped actors secure new agents or move agencies, write Casting Director letters that have helped them get seen for their dream roles, help them truly nail their casting types, build their website, helped actors get onto Spotlight, improve their showreels, fix their IMDb profiles and more. I work on the practical aspects of building an acting career…coupled with lots of the lovely affirmative mindest work like affirmations, meditation, gratitude work, positivity and goal setting.
what you'll gain during the
sessions

:

As your acting mentor you will get an uninterrupted hour of someone sitting with you and focusing just on you and your personal acting goals. Focusing on what you are working on; how you are working on it; what you want to achieve; and most importantly, tips on how to help you achieve it more quickly.
and:
Tips and tricks for finding and booking auditions.
Establishing a great approach to meeting key professionals in the business.
Teaching you how to remain positive in the face of a challenging industry; new perspectives on acting and the performing arts.
Guidance on how to nail your casting type.
A tried and tested process to ensure your branding is 100% accurate.
Ideas on new ways to look at the acting world.
Suggestions for your own website and guidance on how to build one.
How to establish and grow your acting business.
Thoughts on effective networking and targeting high quality acting projects.
Sharing stories of my first-hand experience.
Becoming more confident about your strengths and more knowledgeable about your areas for improvement. Working towards becoming a recognisable B.A.B.E..
An ever-expanding group of contacts in UK/Europe, the US and Australia. Includes agents, managers, casting directors, that I draw from to suit your personal acting goals.
And finally, I also have endless spreadsheets, contacts and other material if you want to take it further and spend more time working on a specific area of your career.
Sessions offered Zoom or Skype, or in person if both can be in the same city at the same time.
Oh and I am an actor too so a session with me will not break your budget.
what you
won't

get:

I won't teach you how to act. I can however provide you with names for some of the best acting coaches and teaching schools in the business, both here and abroad.

I won't talk you up. I'm not here to coax your ego, I'm just here to give you a helping hand to getting to the next level, with real and very practical advice and ideas which are specific to your acting goals. Acting mentors offer bespoke plans and ideas about nurturing your career and getting you to the next level, with realistic goals, plans, and actions. You do the work that is planned out during the sessions, and you can't not get results!
Testimonials
My mentoring session with Angela has definitely been an important step in forwarding my career
Angela has a great understanding of the craft of acting as well as the business side of the industry. In a short period of time, she's helped me visualize and pinpoint my strengths instead of focusing on how hard this business is.
Cecilia Gragnani – Actress and writer, Italy and London
Highly recommended for neophytes and seasoned pros alike
Angela's insights inspire and focus you in equal measure, and stem from her 1st hand knowledge of how to get ahead in the business we call 'show'."
Walles Hammonde, UK Actor
Angela guided me through getting set up in London from Spotlight applications to new headshots to working out which agents I wanted to email.
She made working in London seem not only possible but completely achievable. I've now worked in a number of short films, and theatrical productions as well as recently signing with an amazing agent.
Michelle Zahner, Actress in the UK and Australia
still want to know
more

: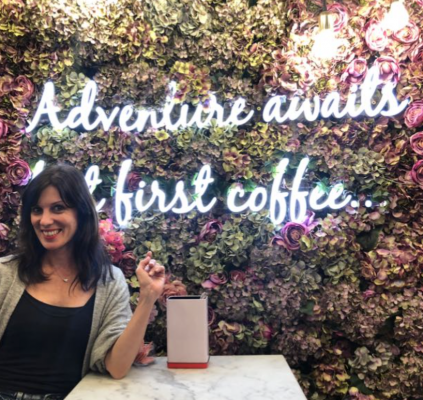 Angela is a professional actor who works regularly on television, films, commercials, voiceovers and theatre (IMDB here). She is also an experienced coach for young people and holds a Bachelor of Arts in Psychology at the University of Queensland (trivia: it's the same University Geoffrey Rush studied at! YAY).
Angela created, implemented and ran many leadership and mentor programs for a number of years for young sales staff within corporate environments. Prior to living in London she was also part of a mentorship program with Optus, where she was mentored by one of the General Managers. Over the years Angela has engaged other business coaches to continue working on her own projects. And now Angela is hired regularly by actors around London and the UK and further abroad to work as their acting mentor and help them generate more work. Over her 20 years in coaching, she's mentored over a 100 actors one-to-one and then more in groups as well, and coached and mentored at least 50 business professionals too on everything from sales, marketing and management, to presentation and public speaking.
For Angela, it's all about finding how actors can have a more successful acting career.
Say hi...you know you want to.